Reasons to Sing! is a project that helps people explore the stories and emotions behind their favourite songs while introducing them to cathedral-style choral singing.
"The Reasons to Sing concert was a joyful celebration; highlighting the power of music to bring people together. What a brilliant example of the positive work that Steel City Choristers do in our city, Thank you!"
Kate Josephs CB, Chief Executive, Sheffield City Council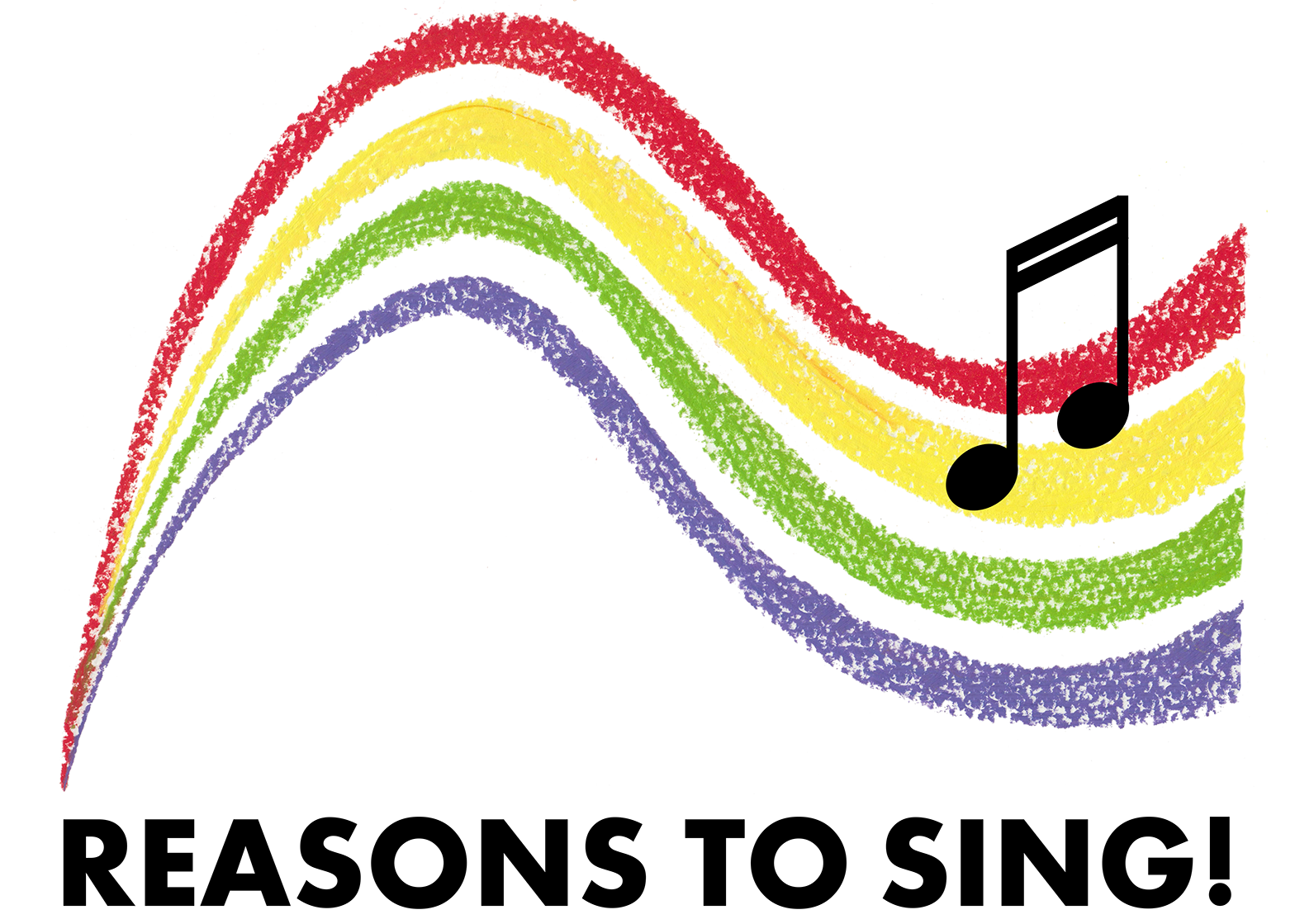 About Reasons to Sing!
Steel City Choristers delivers Reasons to Sing! in collaboration with a local community organisation over a period of around 10 months.
The project:
Builds community and relationships through discussion and singing
Invites people to explore how singing nurtures our spiritual and emotional wellbeing, and is intrinsic to being human
Introduces people to the beauty of cathedral-style choral music
A short wellbeing course available to download free of charge can be used by individuals or groups to reflect on and explore some of the many Reasons to Sing!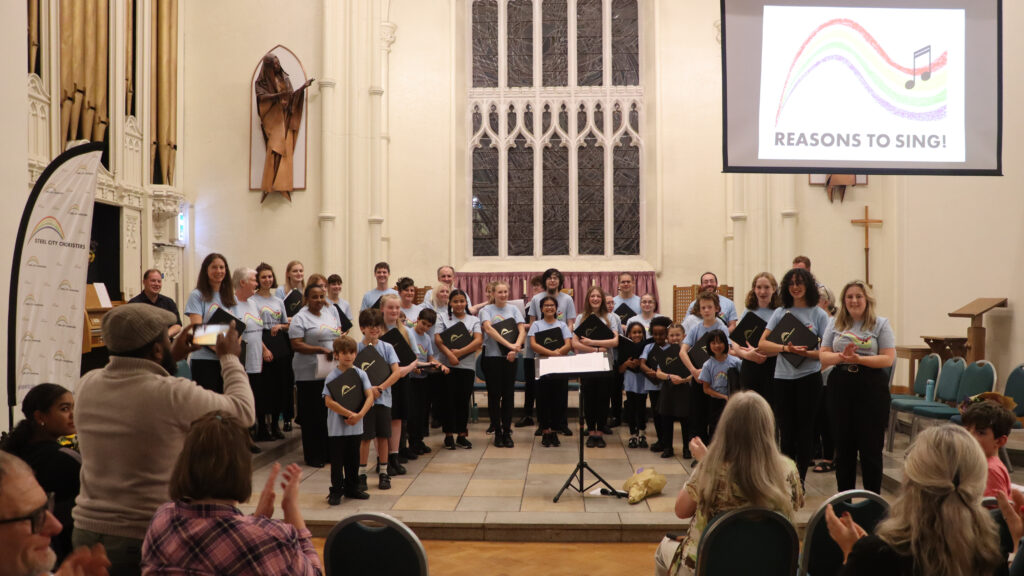 The Project
The project begins with local community leaders talking with people about their favourite songs and what they mean to them. The choir then chooses six of those songs and arranges them to be sung in harmony by the choir. We then run a series of community singing workshops to teach local people to sing the tunes of each of the six songs.
We match each of the chosen songs with a piece from our choral repertoire that expresses similar emotions, and then Steel City Choristers and the local singers put on a community concert together featuring each of the matched pairs of songs, with videos of people telling the stories behind them.
Reasons to Sing! 2023 at St Mary's
We have recently been exploring Reasons to Sing! with the people of St Mary's Bramall Lane Community Centre.
We performed our favourite songs at a Community Concert on Saturday 7th October.
St Mary's Favourite Songs
Here are the stories behind the favourite songs chosen by people at St Mary's Bramall Lane social supermarket, and the pieces we have matched them to from our choral repertoire through the themes of Trust, Self Esteem, Loyalty, Joy, Motherhood, Fatherhood.   
The songs chosen are:
Trust
God will make a Way – Don Moen
The Lord's my Shepherd – Howard Goodall

Self Esteem
This is me, from the Greatest Showman –
Justin Paul and Ben Pasek
Psalm 139

Loyalty

Count on Me – Bruno Mars
Upon Your Heart – Eleanor Daley

Joy
Walking on Sunshine –
Katrina and the Waves
Sing Joyfully – William Byrd

Motherhood
Mama – Spice Girls
Bogoroditse Devo – Sergei Rachmaninoff

Fatherhood
Father and Son – Cat Stephens
In my Father's House – Philip Stopford
Reasons to Sing! 2021-2 in Parson Cross 
Reasons to Sing! started life in May 2021 as a year-long collaboration between Steel City Choristers and Parson Cross Initiative (PXI), funded by Awards for All and the Worrall Male Voice Choir Grants Foundation.
The project ended with a memorable community concert, available to watch below. The audience enjoyed the opportunity to join in a rousing encore of Hi Ho Silver Lining.
Church Action on Poverty featured the project on their website.
PXI's Favourite Songs
The videos below feature twelve songs matched together through the themes of comfort, gratitude, loss, love, unity and structure. The songs are sung by Steel City Choristers and presented together with the stories behind them told by people from Parson Cross and the choir.
The songs featured in these videos are:
Comfort
He's got the Whole World in His Hands – traditional African-American spiritual (arranged Jeremy Dawson)
Psalm 136 – chant by Richard Lloyd

Gratitude
What a Wonderful World – Bob Thiele & George Weiss (arranged Timothy Peters)
For the Beauty of the Earth – John Rutter (words by Folliott Pierpoint)

Loss

The Day Thou Gavest, Lord, is Ended – hymn (tune: St Clement, by Clement Scholefield; words: John Ellerton)
In Paradisum from "Requiem" – Gabriel Fauré

Love
Angels from the Realms of Glory – hymn (tune: Iris, traditional French carol; words: James Montgomery)
If Ye Love Me – Thomas Tallis

Unity
Hi Ho Silver Lining – Scott English & Larry Weiss (arranged Timothy Peters)
Jerusalem – hymn (tune: Jerusalem, by Hubert Parry; words: William Blake)

Structure
Mr Blue Sky – Jeff Lynne (arranged Jeremy Dawson)
Agnus Dei from "Mass for Four Voices" – William Byrd
Video production: Dan Jackson, Subversive Productions
Audio recordings: Luke Dunn
What's your favourite song?
We first started exploring Reasons to Sing! in 2021 by asking members of Steel City Choristers to tell us the story behind their favourite songs. Here are their stories.
People from PXI in Parson Cross and at St Mary's Bramall Lane Community Centre have also been telling their stories.
What's yours?
"This moved me – just a person explaining why a piece of music, that I also love, moves him. Simple, powerful and authentic."
Esmé Page, Sing2G7
Funding
Our Reasons to Sing! projects with PXI and St Mary's have only been possible because of grant funding from Awards for All.
Additional funding for our project with PXI from the Worrall Male Voice Choir Musical Grants Foundation helped make all the filming possible.